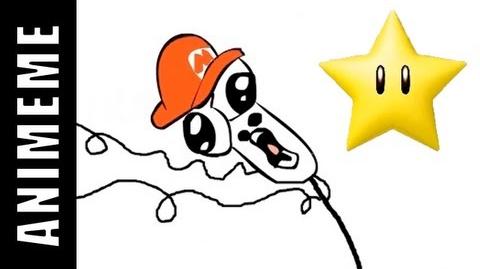 Star Power is the ninth episode of the web series Animeme. It first premiered on Youtube on November 12, 2012
Naysayers
Gonna naysay
---
I'm no weatherman
but you can expect more than a few inches tonight, baby. I'm talking like four, five.
---
This is the best paper I've ever read!
95. No paper is perfect.
---
I'll just tell them my legs are tired
so they have to carry me for the rest of the trip
---
One does not simply
drive home from McDonald's without eating any fries
---
Son: Ew! I found pubes in my spaghetti
Dad: That's not surprising
Son: Why?
Dad: I FOUND SPAGHETTI IN MY PUBES.
---
Overly Attached Girlfriend
I've been practicing my new signature
for when we get married
---
Overly attached girlfriend?
That sounds nice...
---
Lesbian spotted
CHALLENGE ACCEPTED
---
Mario just walking
Then suddenly a star appears
Challenge Accepted
Mario wildly chases the star
A few meters later
The star falls off a cliff with a troll face
FFFFFFFUUUUUU
Ad blocker interference detected!
Wikia is a free-to-use site that makes money from advertising. We have a modified experience for viewers using ad blockers

Wikia is not accessible if you've made further modifications. Remove the custom ad blocker rule(s) and the page will load as expected.