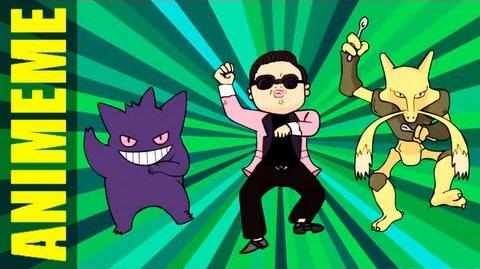 Psybeam is the sixth episode of the first season of Animeme. It was uploaded to youtube October 5, 2012.
The camera is facing the earth
Oh shit, oh shit, oh shit, oh shit
The camera quickly zooms into a plain of Africa and an ostrich is seen being chased by a cheetah
Ostrich: Oh shit, Oh shit, oh shit, oh shit, OH SHIIIIIT
---
You know what you and Yoshi have in common?
I wanna ride you both all day! (laughs)
---
If John has 50 candy bars and eats 45, what does he have?
Diabetes. John has diabetes. Fuckin' fatass.
---
Textbooks
Y U NO HAVE CTRL+F?
---
OMG! I hate fake friends!
Has 4,138 facebook friends
---
Born with a physical disadvantage
Playing life in HARD MODE
---
People who trying to get hammered
Are also trying to get nailed
---
Right now, 14,000 people are having sex
25,000 are kissing
50,000 are hugging
And you are on the......th-the internet......
Congratulations! You made the right choice!
---
Oh, you wear a North Face jakcet?
You must go on sooo many adventures
---
Oh, glorious zebra butt...
Tell me your secrets. Oh, it's so warm and fuzzy on mah face.
---
They laughed at me in physical education
I laughed at them in physical theapy. The ones that survive
---
Ten.
Nine.
Eight.
Seven.
Six.
Five.
Four.
Three.
Two.
One.
ZERO!
---
Can I get two large
Medium pizzas.......That's it
---
(burps) Are you a doctor?
Cause you just cured my erectile disfunction
---
Overly Attached Girlfriend
You have herpes?
They'll be OUR herpes
---
A trainer is walking in a cave when he is suddenly pulled into a battle with a Wild Alakazam
Text: Wild Alakazam appeared! Wild Alakazam used PSYBEAM
Gangnam Style starts to play. Psy begins to dance along with the Wild Alakazam and another pokemon
Ad blocker interference detected!
Wikia is a free-to-use site that makes money from advertising. We have a modified experience for viewers using ad blockers

Wikia is not accessible if you've made further modifications. Remove the custom ad blocker rule(s) and the page will load as expected.