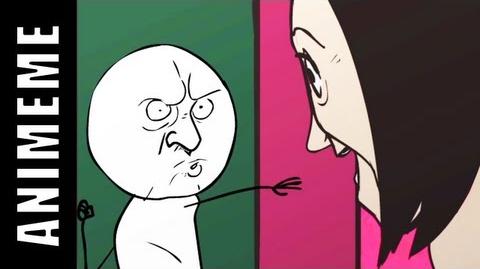 Mrs. Bieber is the eighth episode of Animeme. It first premiered on Youtube November 12, 2012.
Phone screen suddenly lights up
Battery charged
---
I keep it real
quiet after 9, I just don't wanna wake the neighbors, they've got kids
---
Pee is clear
no need to flush
---
Spinach?
If I want iron, I'll eat iron
---
Dude, Zelda is sooo hot
Why can I get a guy like that?
---
Me doing a cannon ball with goggles on
CANNON BALL
The goggles slip, making the water flow into his eyes
FFFUUUUUUU
---
Whoa, men are paid more than women
because women expect them to buy drinks
---
Try to think of a good chemistry pun
All the good ones argon (laughs)
---
Take a trip to the Virgin Islands
RAPE THEM
---
Mrs.Bieber
Y U NO USE CONDOM?!