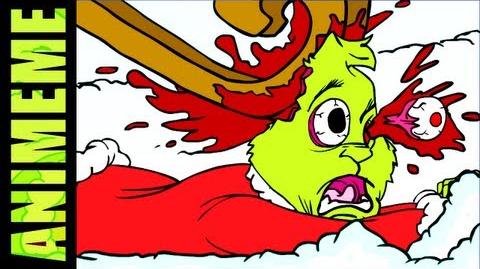 Insanity Wolf Christmas Song!
is an
Animeme
special, starring
Insanity Wolf
. It is fully musical, being a twisted, demented version of the famous Christmas song
Jingle Bells
.
Transcript
Edit
Insanity Wolf:
Dashing through the snow
Get the fuck out of my way
You are all so slow
and fat, what do you weigh?
HA HA!
I'll end your caroling
but It won't be a silent night
I've come to terrorize your town
and watch you die tonight
Jingle Bells
Go to hell
I've hijacked Santa's sleigh
Oh what fun it is to ride over bodies everyday
HEY
Jingle Bells
Go to hell
Bodies will decay
after you're all crushed beneath my motherfucking sleigh
HEY
Insanity Wolf kills characters from many known Christmas specials. List in order:
Ad blocker interference detected!
Wikia is a free-to-use site that makes money from advertising. We have a modified experience for viewers using ad blockers

Wikia is not accessible if you've made further modifications. Remove the custom ad blocker rule(s) and the page will load as expected.