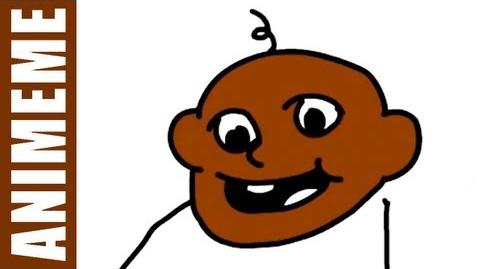 Black Baby is the first episode of the animated series, Animeme. It premiered on YouTube on July 16, 2012.
Need to animate a meme
Why not Zoidberg?
---
Gets first pubic hair
In his salad
---
Dub...
All the steps!
Wub wub wub!
---
Turn the lights off in the basement
Run the fuck upstairs!
---
His name is Link...
Not Zelda!
---
Oh, a Tap Out shirt?
I bet you kicked so much ass
---
Can I come with you guys?
No? Okay...
---
Mosquito bites you
Eat it! Take back what is yours!
---
Le wife
So honey, I went to the doctor today, I'm pregnant
Wow! I'm gonna be a dad... I'm so happy!
Several months later... 
FUUUUUUUUUUUUUUU!
Poker Face
Honey, there's something I need to tell you...
OH MY GOD... Our son is...
Gonna be a motherf*cking all-star!
Awwwwwwww yeah!
---
If you have x-ray vision and you close your eyes
Can you still see?
---
I don't always have sex
But when I do, it's an*l
---
Curiosity
Why did you kill the cat?
---
Borrow your lighter
Permanently
---
Nice house
Could use a door
---
40 year old virgin?
Challenge accepeted
---
Someone
Should totally stop Hitler
---
Hold the door for a beautiful girl
And her boyfriend
---
Parents ask what 'fapping' means
Demonstrate!
Ad blocker interference detected!
Wikia is a free-to-use site that makes money from advertising. We have a modified experience for viewers using ad blockers

Wikia is not accessible if you've made further modifications. Remove the custom ad blocker rule(s) and the page will load as expected.