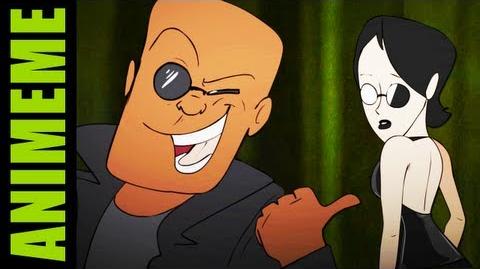 (Classic Morpheus!) is the fourteenth episode of Animeme. It first premiered Febuary 8, 2013.
If at first you don't succeed
don't come back home!
---
Nice legs
What time do they open?
---
Can you pass me a slice of Pepsi?
(laughs) I mean Coke
---
Light molotov cocktail
DRINK IT
---
Time for some chocolate pudding!
Opening
Rip
YOU DISOBEYED. RRRHHHAAA
Stabs the pudding with a fork, causing it to explode into an array of chocolate
Fuck yea!
---
Wishes to not die a virgin
Granted eternal life
---
I'm tellin' ya, he ain't no rat
Mickey is a mouse
---
I left my wife and kids
presents under the Christmas tree
---
Boy works up the courage to make eye contact with a girl
Brian: (to himself) You gotta do it, buddy. This is your chance. (whimpers) Um, excuse m-
Medusa
Brian: AHHHH- is frozen into stone
---
What if I told you
the other pill was a roofie
Ad blocker interference detected!
Wikia is a free-to-use site that makes money from advertising. We have a modified experience for viewers using ad blockers

Wikia is not accessible if you've made further modifications. Remove the custom ad blocker rule(s) and the page will load as expected.